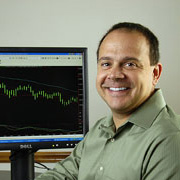 "The Tick Trader"
About David Marsh
Email David Marsh

Common terms and definitions used in emini day trading.
Emini Futures Trading Glossary
---
Back Months

Futures delivery months other than front month.

Bear

One who expects a decline in prices.. A news item is considered bearish if it is expected to result in lower prices.

Bear Market

A market in which prices generally are declining over a period of months or years.

Bid

An offer to buy a specific quantity of a commodity at a stated price.

CBOT

Chicago Board Of Trade.

Contract

An agreement made at a specific price for delivery on a certain day. The Emini Contracts are all cash based. Also known as Futures Contracts.

Day Trader

An active trader who opens and closes positions the same day and seldom hold positions after the close. A day trader usually trades very liquid markets like the S&P 500 Eminis, Erussell Eminis, Dow Eminis, and Nasdaq Eminis.

Dow Eminis

The emini futures market that is a basket of 30 stocks. It is the average of the Dow Jones Industrial Average.

Emini

A mini contract that is traded exclusively on an electronic trading facility.. E-Mini is a trademark of the Chicago Mercantile Exchange.

Erussell Eminis

The emini futures market that is a stock index of 2000 stocks.

Front Month

The current trading month. The S&P 500 Eminis trade 4 contract months: March, June, September, and December.

Futures

Market trading in contracts to buy and sell a particular commodity at a fixed price on a certain date.

Limit Order

An order to enter a position at a set price or better.

Market Order

An order to enter a position at the next available price.

Mini

Refers to a futures contract that has a smaller contract size than an otherwise identical futures contract.

Options

Options are a contract that give the buyer the right, not the obligation to buy or sell the underlying security at a specified price (Strike Price) at a specified date.

Stock Index

An average of a basket of stocks, that are usually weighted, meaning some stocks have more "juice" in the index price than others. Some examples of stock indexes are: S&P 500 Eminis, Erussell Eminis, and Dow Eminis.

Swing Trading

Opposite of daytrading. Swing Traders speculate longer term on prices of stocks, futures, etc.

Tick

The minimum price fluctuation price action can make. In the S&P 500 Eminis the minimum movement is $12.50. So each "tick" is $12.50.